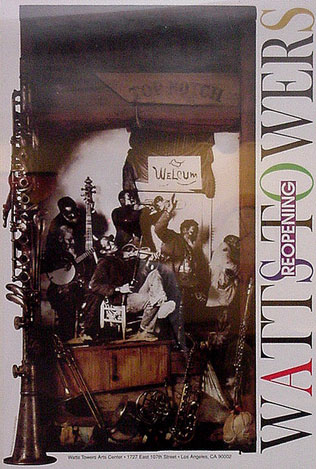 @ The Watts Towers
1727 East 107th Street, Los Angeles
MARK your CALENDAR!
September 30, 2017 is the Day of the Drum!!
October 01, 2017 is the Simon Rodia Watts Towers Jazz Festival!!!
ALL DAY! Both DAYS!!
10am to 6pm!!!
Press Release
The Watts Towers Day of the Drum Festival celebrates the role of drums and drummers in world cultures, past and present. The Simon Rodia Watts Towers Jazz Festival pays tribute to the American music forms of jazz, gospel and rhythm and blues. Admission is free to the two festivals. There will be activities for children and informational material at community service booths. Food and Arts and Crafts will be available for purchase.
[Updated 09/27/2016]


Watts Towers
Day of the Drum

Watts Towers
Simon Rodia Jazz Festival






BACK-TO-BACK