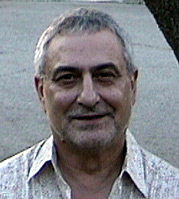 Ralph C. LaRosa
A happy wanderer, Ralph C. La Rosa has taught English at eight American colleges and universities and one in the USSR. He's sold screenplays and published essays on American literature, but his current passion is poetry. Ralph's work has appeared in various journals, including Sewanee Review, Los Angeles Times Book Review, American Literature, Italian Americana, The Lyric, Pivot, First Things, Light Quarterly, Raintown Review, Umbrella (online), and Folly (online).
Writing and production work on the Watts Towers film, Spires to the Sun; adventures in Soviet Georgia; and coordinating conferences of American and Chinese writers at UCLA and in Beijing-these are among the most intense and gratifying experiences of his life. To which Ralph adds this appearance in Trywatts.Com.
The poems originally appeared with different formats in Pivot, No. 52 (Summer 2001), 87-88. TryWatts.Com 'format editing' under the supervision and with the final approval of Mr. La Rosa was incorporated in order to utilize the visual and spacial advantages of HyperText.